Michael Hastings Death 18th June 2013
on North Highland Avenue near Melrose Avenue was reported at 4:25 a.m
Rolling Stone journalist
Michael Hastings
was working on a story about the CIA before his death
http://www.dailydot.com/politics/fbi-investigates-michael-hastings-story/
Michael Hastings contacted WikiLeaks lawyer Jennifer Robinson just a few hours before he died, saying that the FBI was investigating him
http://www.buzzfeed.com/mhastings/why-democrats-love-to-spy-on-americans
   The brand new Mercedes-Benz C250 coupe that exploded & the engine that flew out 50 - 100 feet  away
No skid marks at the scene .....??????
did the brakes fail ?
was he under the influience of alchol or drugs ?
Was he dead before he hit the Tree ?
Who Knows ?
as a gagging  order has been placed on police and firefighters that worked on his crash and the LAPD refuses to release the police report to journalists.
Would An Engine From a Mercedes-Benz C250 coupe, Explode and fly 50 -100 feet away from car ?
Safety Features On the Mercedes - benz C250 coupe .. Optional or Standard Makes
ATTENTION ASSIST
The first system of its kind, ATTENTION ASSIST continuously monitors different parameters of driving behavior, and can automatically alert the driver with both visual and audible warnings if it detects signs of drowsiness on long trips.  (Disclaimer)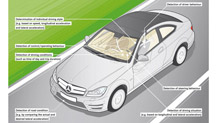 Lane Keeping Assist
With technology that monitors ordinary road markings, Lane Keeping Assist helps detect unintended drifting off-course, and alerts the driver by vibrating the steering wheel.   (Disclaimer)Available in Lane Tracking Package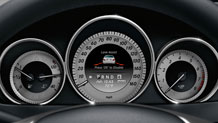 DISTRONIC PLUS with PRE-SAFE® Brake
This advanced, radar-based cruise control monitors the vehicle ahead and adjusts your speed to help maintain a chosen following distance. Its stop-and-go function can bring the car to a halt if it senses stopped traffic, then resume automatically.Should the car ahead slow or stop suddenly, the PRE-SAFE Brake system can automatically engage up to 40% of available braking power and issue an audiovisual alarm.If you still haven't applied the brakes within 0.6 seconds of a calculated impact, it automatically engages 100% braking power.   (Disclaimer)
PRE-SAFE®
Included with the Driver Assistance Package is another Mercedes-Benz safety breakthrough. PRE-SAFE® is a predictive occupant-protection system that helps prepare for an accident in the critical moments before it occurs. If sensors detect certain vehicle movements that indicate that an accident is possible, PRE-SAFE takes action: Reversible electronic tensioners tighten the seat belts. The occupied front passenger seat adjusts to a more favorable position for air-bag and seat-belt effectiveness, while both active front head restraints adjust for optimum protection. If severe skidding indicates that a rollover is likely, PRE-SAFE closes the side windows. If no accident occurs, the seat-belt tensioners reverse, and you simply readjust your seat, open the windows and continue on your way.   (Disclaimer)
Adaptive braking technology
Adaptive braking technology integrates a suite of advances. If you lift off the accelerator quickly, Predictive Brake Priming sets the pads closer to the discs for more immediate response when you apply the brakes. In the rain, Automatic Brake Drying periodically applies the brakes just enough to sweep water build-up from the discs. During uphill starts, Hill-Start Assist helps prevent unwanted rollback. And a HOLD feature can make long red lights or stopped traffic a little easier.   (Disclaimer)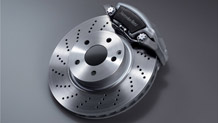 Brake Assist
Brake Assist senses emergency braking via the speed at which the driver presses the brake pedal and immediately applies maximum available power boost. Brake Assist can potentially reduce the overall stopping distance by eliminating the delay caused by a common human tendency not to brake hard enough, soon enough. Letting up on the brake pedal releases Brake Assist.   (Disclaimer)
Antilock Braking System (ABS)
Enjoy the strong, controlled stopping power of dual-circuit power-assisted 4-wheel disc brakes, backed by an Antilock Braking System (ABS). ABS senses impending wheel lockup under heavy braking and pumps the front brakes individually or the rear brakes together. This intelligent system can pump the brakes as needed up to 30 times per second, to prevent lockup and preserve the driver's steering ability.   (Disclaimer)
Electronic Stability Program (ESP®)
This safety breakthrough first introduced by Mercedes-Benz continually monitors your driving inputs and the vehicle's motion to help keep it going in your intended direction, especially in corners and during evasive maneuvers. If it detects wheelspin, severe understeer (plowing), or oversteer (fishtailing), ESP can brake individual wheels and reduce engine power to help bring the vehicle under control.   (Disclaimer)
Not found anything that suggest that an engine can fly out of a mercedes yet.. this would really make mercedes look carefully over there cars in the future..and check the safety of them more..
Princess Diana
died in a mercedes too in 1997.
eye witness Rochelle Frankel ?
[youtube http://www.youtube.com/watch?v=bHekQHV1bDY&w=560&h=315]
[youtube http://www.youtube.com/watch?v=lY2QZts4gOE&w=420&h=315]
Or IS THIS THE SAME LADY FROM SANDY HOOK AND BOSTON BOMBING ?????
Hes a long time hollywood Producer Gary Grossman
check out gary grossmans books !!!!

Executive Treason

The secret terrorist organisation that came within a heartbeat of installing its agent as President of the United States in Executive Actions is back with a new -- and deadlier -- plot to destabilise the US government. It all begins with what appears to be a simple mugging and murder of a female White House staffer. Secret Service agent Scott Roarke discovers the truth: that the murder was committed by his secret nemesis, the mysterious assassin who had managed to always stay one step ahead of him during the presidential campaign. This time Roarke has found clues about the assassin's past that give him the tools he needs to hunt the hunter, but the clues can only go so far. Roarke needs all his skill, and a huge amount of luck as well, if he's going to catch his quarry.

Executive Actions 

An assassin takes aim at a Presidential candidate during a primary stump speech. The instant he pulls the trigger, the outcome of the election is irrevocably changed. But Democrat Teddy Lodge, an upcoming media sweetheart, isn't killed. His wife is. As a result, Lodge emerges as the man to beat and the greatest threat to the incumbent President, Morgan Taylor. Under a specific directive from the President, Special Service Agent Scott Roarke devles into the case and begins to unravel a deadly plot that incubated for more than 30 years; designed to alter America's allegiances in the Middle East. From the very first page, Presidential Objective culls events from today's headlines intersecting with a scenario that's shockingly real: An insidious plot hatched in the old days of the Soviet Union continues to grow to fruition in the hands of a power hungry Middle East heir to the throne. At its core, a sleeper is awakened to take a prominent role in American Life. Presidential Option is a tense political thriller; an election year page-turner, where both the Presidency and the Constitution are at stake.

This could of been a scene from his books .. he was shooting at the time .. ???

As anyone Read these books ?? is there a car explosion scene in them ??? 

LAPD traffic investigators found the motor of the late-model Mercedes-Benz C250 coupe involved in the accident about 100 feet away from the car…a clue that would indicate the vehicle was travelling at more than 60 miles an hour when it apparently veered out of control and struck a palm tree…
The engine's location is evidence that the driver "was hauling Irish ass and lost control," [Private traffic investigator Harry] Ryon told us, "With the engine torn off the gas lines would rupture and it would start a fire."
Video of Michael Hasting  http://current.com/shows/the-young-turks/videos/did-performing-enhanced-interrogation-lead-to-former-cia-operative-andrew-warrens-downfall
the tree the car hit and the google map position where it happened. and where the engine was located too
video of what happened [youtube http://www.youtube.com/watch?v=3LSY3wVuASg&w=560&h=315]
also video of Hasting running a red light [youtube http://www.youtube.com/watch?v=gNhqKRugk8Q&w=560&h=315]
Jose Rubalcava 
Eyewitness to the accident tells his story and
Alsco Lining company where the eyewitness works   
900 N Highland Ave, Los Angeles, CA 90038, United States
[youtube http://www.youtube.com/watch?v=fweyFCFKcp0&w=560&h=315]
On the night of the accident :
he was shouting going  fast Fast .
bouncing While slapping his hands .
he didn't  see it hit the tree.
Too much fire fire
In interview :
the car bouncing with flames and sparks from near the gas tank. and seen it hit the palm tree
and going maximum speed on the speedometer
I think it was going the top speed
hitting pot holes
fish tailed and then hit the palm tree
Lost control 50 feet after the melrose stop lights
Could this Be when the Engine fell OUT ?
Before  his death,
Hastings was working on a story about Jill Kelly, the military socialite
who received email messages from Paula Broadwell,the biographer who had an affair with former general and CIA director David Petraeus.
Kelly believes the FBI leaked her name to the media to discredit her.
LA Times Stated that Hasting was going into hiding, just before he died.
http://www.latimes.com/local/lanow/la-me-ln-hastings-crash-emails-20130621,0,2806628.story
Hastings also talked about government attempts to control the internet  .... More on this later
Read more: http://newsrescue.com/hastings-just-sent-email-that-he-was-going-into-hiding-before-his-death-la-times/#ixzz2XEJpT1gc
Wife of Michael Hasting (Elise Jordan) as vowed to take down who ever killed her husband.
Michael Hastings was Told He Would Be Hunted Down and Killed over Gen. Stanley McChrystal Story   more on this story later >>>>>
http://www.rollingstone.com/politics/news/the-runaway-general-20100622
Update 7Th July 2013
Kimberly Dvorak talks about the controversial accident of Michael Hastings
Little bit about Kimberley Dvorak :
Kimberly Dvorak is a freelance writer who resides in San Diego. She has covered local, national and international news stories for more than 15 years. She is looking to write fair and balanced stories Americans want to read.
And what she thinks about the "Accident"
No Police report out yet.
Couple of things that stood out on her mind from the scene
Went to the fire department and police department, and they were not allowed to comment.
It was an extremely HOT FIRE and that the military said this is very hot fire for a car.

A statement from Mercedes said they are aware of the accident and waiting on the LAPD, but not heard from them.
The placement of the engine and drive shaft is concerning too,
They are 150 - 200 feet away from the car. not possible for engine to be at back of car.
possibily could been drinking .. however there was zero skids marks
Either the car malfunctioned or something on the car to trigger it to blow up.
Merecedes said there cars dont just blow up
cars can also be remote controlled too . by hacking into the car system
Video is here All rights to this video belong to San Diego 6.
http://beforeitsnews.com/media/2013/07/michael-hastings-cover-up-confirmed-san-diego-6-investigative-report-on-michael-hastings-crash-2466852.html?utm_source=https%3A%2F%2Fwww.facebook.com%2F&utm_content=awesm-fbshare-small&utm_medium=facebook-post&utm_campaign=&utm_term=http%3A%2F%2Fb4in.info%2FgAhX
http://www.youtube.com/watch?feature=player_embedded&v=2m-rRJGfjqo#at=171  Staff Sergeant Joe Biggs a long time friend of Michael Hasting Talks about what happened to is close friend.
OMG can anyone else see whats happening here ?
http://www.infowars.com/boston-marathon-bombings-suspect-featured-on-rolling-stone-cover/
They are trying to close the magazine down where Michael hasting worked .. by putting stuff about the boston bombing wow
So that if they uncover anything that michael was working on then it will be discarded. No way
Thats horrible .. my god
So they killed Michael Hasting ?.. now they wanna kill The magazine ? The rolling stone ?
http://paulpowers.co/false-flag-or-real/
Back in April federal officialdom told us Boston bombing suspect Dzhokar Tsarnaev was shot in the throat and unable to talk this picture clearly shows no injury
Im thinking Michael Hasting May have uncovered this secret too ?
Few Things that dont add Up
No front drivers wheel, Where did the wheel GO ?
All plugs are still attached, Not ripped off.. plus exhaust still attached too
engine plus drive shaft must of blown out from drivers side wing?
Why engine on the passenger side of the road?
And if engine blow out when impact of tree then why not fly to the left of car into the road on left ?
Also he could of faked his own death ? possiblilty ? as he was going off the radar
not much damaged to an engine that possibly flown 100 yards from the accident
Update 5th August 2013
[youtube=http://www.youtube.com/watch?v=_42z-dttYDg&w=560&h=315]
The surveillance video captures the final moments of Hastings life and provides intriguing details of the "crash." The video shows a flash of light appearing at the 13-14 second mark, the headlights are on at 14 seconds, but all lights are extinguished at the 16-second mark. The car then turns left and the first horizontal explosion appears just after the 16-second mark (it ejects the left front tire across northbound highland approximately 40-50 feet). The second explosion engulfs the engine compartment at the 17-second mark. The third and largest explosion consumes the passenger compartment at the 17-18-second mark.
Update 6th August 2013
Michael Hastings wife Elise Jordan labeled the incident a "tragic accident" during an appearance on CNN's Piers Morgan Tonight.
[youtube=http://www.youtube.com/watch?v=ljHEcLzOiAc&w=420&h=315]
more to follow
Sign up FREE to use ChaChingbooking ..and save on your next holiday